Musky Fishing Trips in Asheville!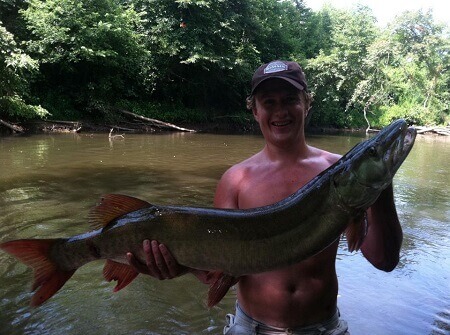 The constant fresh water flowing from the French Broad River offers some of the best musky fishing in the southeast.  At SAA we love taking our clients on musky fishing adventures because you never know when the next trophy musky is waiting to explode on your line. This is an exciting fishing trip for anglers seeking trophy game fish. Be prepared to cast heavy lures or big flies into dense cover to entice these river predators!
The French Broad River in Asheville and Hendersonville has been heavily populated with musky after the Department of Natural Resource Commission continued their stocking program in the state. Through their efforts, musky have heavily populated in the river and continue to reproduce naturally. Chase giant musky with our professional musky guides to catch your next trophy fish!
Musky Guide Trips Asheville, NC
Fly fishing is very popular for catching musky in WNC. Throwing big baits or tossing long 4 to 10 inch flies is not uncommon to be seen on the French Broad River. Flies produce an erratic action that musky just cannot refuse. Musky fishing in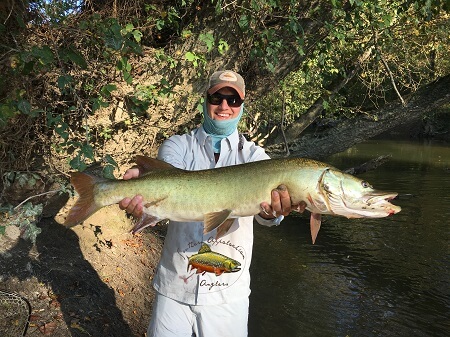 Western North Carolina's mountains is great year round. Fall, Winter and early Spring is the best time to chase these monsters but summer is full of trophy fish as well.  Be prepared to fish hard to land one of these river predators - they don't call them a fish of a thousand casts for nothing!
Esox Rivers in Asheville
Musky can be found in cold water rivers including the French Broad in Asheville and Hendersonville and cold water lakes in Tennessee. These fish are true predators and it is necessary for them to feed year round. The most popular meals for musky are bottom feeders including horny heads and carp, as well as trout and usually any other fish that is in its way. Musky are known for their top water explosions. During your musky guide trip in Asheville you will have the option to use large baits and or large flies to entice a topwater bite.
Musky Fishing Float Trips
Book your next fishing trip of a lifetime to catch your next trophy musky with SAA!
Full Day (8 Hours – includes lunch): $450.00 per 1-2 people
Half Day (4 Hours – includes drinks/snacks): $350.00 per 1-2 people