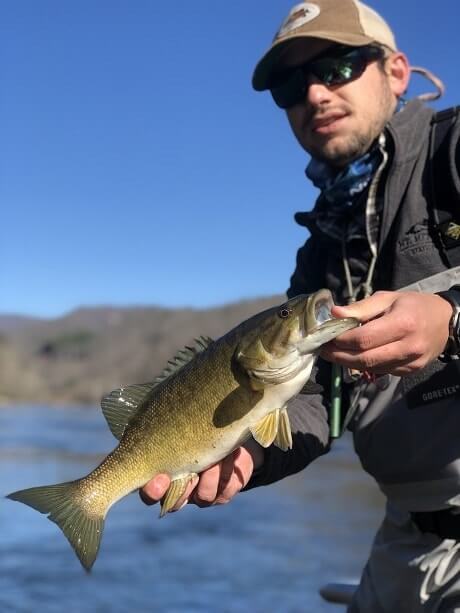 Fly Fishing the French Broad River
Based out of Asheville, Southern Appalachian Anglers find the fishing on the French Broad effective year round with summer months being great for smallmouth, fall and spring being great for brown trout and throughout the year musky can be caught due to their aggressive feeding schedule. A convenient river for anglers of all skill levels and a spectacular river when wanting to catch size and quantity.
The surface area of the French Broad in the Asheville sections are large, which offers a lot of room for fly fishing or spin fishing. The French Broad is great for floating in a drift boat. Our guides at Southern Appalachian Anglers will show you how to catch fish and teach you how to fish the French Broad river effectively year-round.
The French Broad River flows through North Carolina and Tenessee, from the town of Rosman in Transylvania County into the state of Tennessee. The river flows through the counties of Buncome, Henderson, Madison, Transylvania, Jefferson, Sevier, Knox and Cocke.
In Buncome County, the river flows through the city of Asheville, where it receives the water of the Swannanoa River. The French Broad is a tremendous fishery, offering a variety of gamefish species including smallmouth and musky!
When fishing the French Broad with your professional fly fishing guide you will have the option to use fly fishing equipment or spinning gear. SAA provides all the necessary fishing equipment to have a fun day fishing Asheville's French Broad River!
History of the French Broad
The French Broad River is one of the ancient rivers which flows across and throughout North Carolina and Tennessee rather than down from the Southern Appalachian mountains. The river was flowing like this before the Appalachian mountains were created. It cut a path through the Southern Appalachians as they were created.
Douglas Dam was built on the lower French Broad by the TVA during the 1940's and is one of the larger developments on a tributary on the Tennessee River; other include Norris Lake, Cherokee Lake and the Clinch River.
Species Found in the French Broad
Before human civilization in Western North Carolina, it was said the French Broad River was full of sturgeon and musky. While there are still musky (esox) in the river there are also plenty smallmouth bass, brown and rainbow trout. Different parts of the river are more concentrated with one species than the other. Contact Southern Appalachian Anglers to learn more about the French Broad River for musky fishing, smallmouth fishing and/or trout.