Fly Fishing Classes Asheville, NC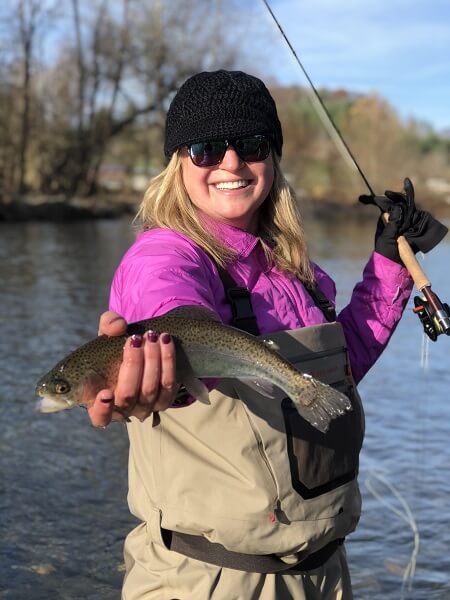 Learn from professional guides.
Southern Appalachian Anglers offers a truly, one-of-a-kind, Southern Appalachian fly fishing class in Asheville, North Carolina. The fly fishing class covers a variety of local fly fishing techniques from small creeks to big rivers, fly selection, WNC fly hatches, reel mechanics, fish patterns and more! Our experienced fly fishing instructors have taught thousands of people how to fish throughout the years.
What Will You Learn?
While learning to fish from our knowledgeable instructors, SAA students will learn everything from casting technique, choosing the right tackle, reading the water, essential knots, to year round pattern selection, fly selection, line essentials to proper fish release and more.
Asheville Fly Fishing Classes
All schools are based on availability and must be booked in advanced.  Call (828) 691-1506 to make your reservation. Attend our fly fishing classes in Asheville, NC to learn more about the art of fly fishing and how to catch fish on the fly!

Private Full-Day Fly Fishing Class:
(does not include NC fishing license)
$375: One Angler
$450: Two Anglers
$525: Three Anglers
Private Half-Day Fly Fishing Class:
(does not include NC fishing license)
$275: One Angler
$350: Two Anglers
$425: Three Anglers
Fly Class Instruction
Casting

Fish Habitat

Gear and Tackle selection

Essential Knot Tying

Basic Forage & Fly Selection

Reading Water

Sustainable Fishing Practices