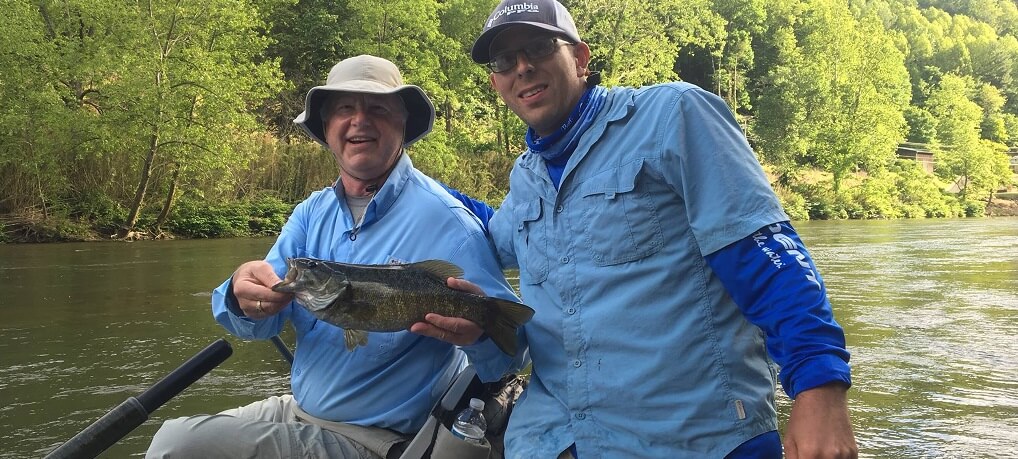 Smallmouth Bass Fishing Guide Trips
Guided smallmouth bass trips are one of the most popular trips requested in Asheville, NC. Float down the river with a professional guide while casting flies for hungry smallmouth!
Techniques Used
The beauty of the bronze back fish and the power they offer is sought after by anglers from all over the world. Fly fishing and spin fishing is the best approach for catching smallmouth bass.  Light tackle to medium light tackle will mostly be used, do to the clear water in the rivers we fish.
Be prepared to cast flashy flies, hair jigs, soft plastics, and hand tied float n' flies for the winter months.  March through May and September through April are generally the best months for larger sized fish, with the summer months being great for quantities!
Time of Year
The best time of year for smallmouth bass fishing in Asheville is from March through November. Catch trophy smallies during the prespawn run from the last two weeks in March through the first 2 weeks in May. Spring smallmouth action is one of the best times to fish. During the summer months smallmouth can be caught all day with fish weighing from 1-5lbs. Fall smallmouth bass fishing is a great season to be chasing the bronzeback; the colors of the leaves changing is a sight to see from the middle of the river! All of our guides at Southern Appalachian Anglers are licensed and certified and uphold a level of professionalism not found elsewhere.
About Our Guided Trips
Our team of fishing guides will assist you in every way possible to make your smallmouth bass fishing trip most memorable. Float trips are the best for smallmouth fishing due to the length of water that we cover while floating down the river. Catching 20 to 50 smallmouth in one trip is not uncommon!
Call us today or contact us online to book your trip to catch your next trophy smallmouth! Ask about out group float trips and our family package rates for booking multiple boats.
Rates
Full-day Float Trip
Float 8-12 miles of river w/ a professional guide

(8 Hours – includes lunch): $450.00 per 1-2 people

All equipment included
Rates
Half-day Float Trip
Float 4-6 miles of river with a professional guide

(4 Hours – includes snacks/drinks): $350.00 per 1-2 people

All equipment included