Western North Carolina has been coined the trout capital of the Southeast, but the best fishing in North Carolina mountains offers way more than just trout. The mountains in North Carolina is probably one of the most underestimated fisheries in America. Our mountains offer anglers of all backgrounds with opportunities.
Asheville, North Carolina is home to over 60 trout streams, more than 5 smallmouth rivers and a couple rivers that hold musky year round. With Asheville being in the south, our fisheries stay healthy year-round and produce fish in all four seasons.
Prime Fishing Seasons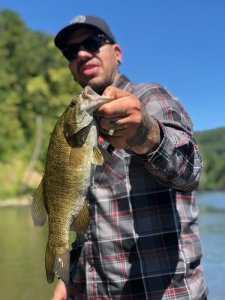 TROUT: The best fishing in North Carolina mountains is typically late February through mid-December. Our trout streams are stocked full of trout starting at the beginning of March, April and May then back again in October and November. Many fly fisherman can be found using nymph rigs to catch stocked fish in Delayed Harvest streams and dry flies for many wild streams around the Asheville area.
SMALLMOUTH: Smallmouth season typically starts in late February and ends around the middle of December. During spring time you can rely on big smallmouth to chase moving baits. The summer and the fall offer anglers with topwater action and a variety of crayfish and minnow imitation lures.  The smallmouth fishing in North Carolina's mountains is some of the best fishing in North Carolina mountains. The smallmouth is coined the hardest fighting fish, pound-for-pound.
MUSKIE: Musky fishing in the French Broad river in Asheville, North Carolina is a unique opportunity that many anglers capitalize on. The opportunity to catch a 50 plus inch northern fish in the south is an anomaly. The best musky fishing opportunities are during the months of February, April, June, July, August, September, October, November  and December.
We may be biased, but we believe the best fishing in North Carolina mountains can be found right here in Asheville, North Carolina! With a wide variety of species to choose from there is something for everyone to get excited about. Our professional, multi-species fishing guides have been guiding for over 25 years and have extensive knowledge about many waterways in North Carolina. Contact us at 828-691-1506 or visit us online to learn more about all of our guided fishing trips!