This is a common question we get as fishing guides. While there are many different access points and multiple variables to consider, our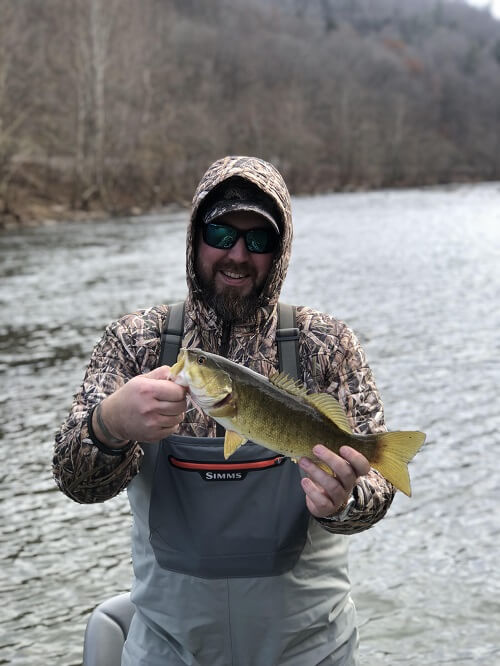 guides have put together a quick list of best places to fish for smallmouth, musky and trout on the French Broad river.
Access Points on the French Broad
Let's start out with a list of access points. Use these as a cheat sheet when planning your outing. Starting at Mile 52 near the Asheville Airport all the way to Woodfin River Park. The last take-out is Woodfin River Park. Woodfin River Park take-out is not to be used as a put-in. There is a dam directly downstream from Mile 75.
Mile 52 Westfeldt Park (includes boat ramp and dock)
Mile 54 Glenn Bridge Park (Hwy 191 Access)
Mile 57 Ledbetter/ Long Shoals Road Access
Mile 60 Bent Creek Boat Launch (Under BR Parkway)
Mile 66 Hominy Creek Boat Launch (Stair Access)
Mile 67 Carrier Park (Stone Steps Access)
Mile 69 French Broad River Dog Park (Steps)
Mile 70 Jean Webb Park / Ramp beside Patton Ave.
Mile 72 The Bywater (Bar & Grill/Takeout)
Mile 73 Informal Access close – railroad tracks
Mile 75 Woodfin River Park (Take-out only)
Most access points on the French Broad in Asheville are designed for kayaks, tubers or rafts. There are limited access points that have boat ramps. While launching or loading a boat can be difficult at some access points, there is usually a path or set of stairs that indicates where the access is. Before calling Southern Appalachian Anglers, look at the bullet points above to learn about boat ramp or kayak access points.
While most of Asheville's put-ins are safe, there is always a chance for car break-ins or you hear the occasional battery stolen. Make sure that you lock your vehicle and take all your belongings with you and out of sight. This article was written to help all anglers and recreational boaters find convenient spots to put in and take out. There is nothing fun about missing a takeout and rowing upstream for miles.  Additional information regarding access points and safety concerns can be found here: Asheville French Broad Access Points
Contact Information – Smallmouth Guides
For guided smallmouth fishing trips on the French Broad river in Asheville contact Southern Appalachian Anglers or visit our smallmouth fishing page to learn more about targeting trophy smallmouth bass.