Explore Asheville…With A Fly Rod!
Visiting Asheville and quaint mountain towns around Western North Carolina offers anglers, at all levels, a fly fishing heaven worth plotting on your GPS. While there are hundreds of rivers and creeks worth visiting, some offer more than others. Including scenery, waterfalls, crystal clear water, beautiful limestone, wildlife, native flowers and more! Our professional guides at Southern Appalachian Anglers Fly Fishing Guides of Asheville will show you 5 of the best rivers to fish in Asheville, North Carolina!
Best Rivers To Fish In Asheville
Wilson's Creek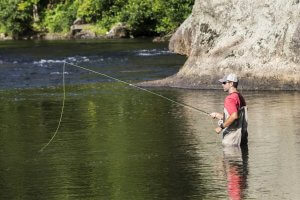 A walk in the park? Clearly not. A drive through one of Pisgah's oldest forests…Absolutely! Wilson's Creek is one of Western North Carolina's least visited rivers, since it is closer to the Piedmont than the High Country. Just off the Blue Ridge Parkway in Caldwell County. Wilson's Creek cuts through Pisgah's high mountain ranges and flows all the way into Lake Rhodhiss. By the Scenic Rivers Act of 1968, Wilson's Creek was coined a wild and scenic river.  With most of Wilson's Creek being designated as Wild Trout Waters and Fly Rod Only, it is mandatory that fly rods and waders are in the back of your vehicle when making the drive through Pisgah.
The "Creek" offers anglers with many types of fly fishing techniques including dry flies in the upper section where the creek becomes shallower, drifting midges in the riffles downstream and nymph fishing some of the larger pools that make their way down the creek in the lower sections. Make sure to carry 9 foot leaders when fishing the lower sections, because some pools can be as deep as 15 feet or greater. When choosing fly rods, 3-5wt rods are a good choice, but make sure your fly rod is at least 9 foot in length. The water in Wilson's Creek is so clear that fish can spot you while hiking down to the river, so stealth and technique are crucial.
Davidson River
An easy drive and an easy hop out of your vehicle and you are basically in the river! With roadside access the Davidson River can provide anglers with an "after work getaway". With an excellent population of big trout, the Davidson has been coined one of Asheville's fly fishing getaways. With only 30 minutes southwest of Asheville, the Davidson River stretches from Brevard all the way back up into Dupont State Forest. The river has been listed as one of Trout Unlimited best streams and provides the angler with a number of different fishing styles to slow drifting nymphs to larger pools, or dry fly fishing while sight fishing large fish.
The Davidson River gets fished year round so presentation and fly imitation can be key. The big trout are smart so light leaders, and quiet wading practices can make it or break it for catching a trophy trout. Don't be fooled by big pools, there are almost always big fish laying on the bottom. This is when drifting large nymphs, depending on season, throughout these deep holes can provide the angler with a fish of a lifetime.
East Fork of the French Broad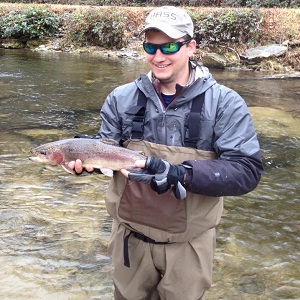 With accessibility similar to that of the Davidson River, The East Fork offers some wonderful fishing. With stockings every year of rainbow, brook and brown trout, anglers will be kept busy all year-round. Just outside of Brevard, in Rosman, the East Fork channels it's way through a two lane road offering anglers with pull-off stations and endless fishing. The river provides trout with cold, clear, oxygenated water from higher elevations. The high oxygen levels produce more insects, which offer the trout to grown all year.
Bring a 5wt rod with 9 foot leader and 4x or 5x tippet to launch dry flies and slowly drift nymphs. The East Fork is typically clear so presentation is key to catching the bigger trout in the river.
Mills River
Between Hendersonville and Brevard, just south of Asheville, you will find Mills River, accompanied with Mills River Campground. Continue up Forest Service Road 479 and then make a left to park. The river can offer experts and novice with a challenge on some of the sections. With trout stockings every year the river holds a number of brook trout, rainbows, and brown trout. Be sure to bring a 3 or 4 weight rod to cast dry flies into tight spaces. There are some deeper pools of water that have formed over the years which offers anglers the ability to slow drift nymphs for a bigger bite! The river offers thick rhododendrons that provides shade to spooky fish and cooler climates in the forest.
Shelton Laurel
With access of state road 208 and 212, and US HWY25/70, anglers can jump out and start fishing. Shelton Laurel provides anglers with a hatchery and delayed harvest section that is 3-4 miles long. With more than 3,500 trout stocked per season, there is a reason why anglers travel to Shelton Laurel. North of Asheville, in Madison County the river flows into the French Broad. With many hungry trout in the delayed harvest sections, Shelton Laurel can offer some big trout as well. With brown, rainbow, and brook trout anglers never know what they are going to hook into.
A great place for a family outing and an easy river to wade. Some sections have deeper pools, while others offer slow riffles in shallow water to cast dries. Shelton Laurel is great year round and specifically during the early summer months. Be sure to pack a bunch of dry flies, along with a 5 wt rod, 7-9 foot leader and 5x tippet.
Contact Us
To learn more about fly fishing in Asheville, North Carolina contact Southern Appalachian Anglers Fly Fishing Guide Service for guided fishing trips and tips on fly fishing the best rivers in Asheville North Carolina!