WNC Mountain Adventures
The quaint towns in Madison County, NC speak for themselves. Mars Hill, Marshall and Hot Springs are some of the more well-known towns in the county, and each has something special to offer. Mars Hill is home to the historic Mars Hill University, ranked among the top 100 regional colleges in the South. The small town of Marshall is nestled in the mountains on the bank of the French Broad River, and though it may be small, it is rich in scenery, history, and unique dining experiences. Hot Springs is a quaint mountain town that is known for its healing hot natural springs. After hiking a rugged mountain trail, one can relax in a hot mineral bath before heading to dinner at one of the locally-owned and operated restaurants in the area.
Hot Springs remains untrammeled by chain restaurants and department stores, and it becomes easy to succumb to the romance of simple mountain life while taking in the gorgeous views this town has to offer.
There are many outdoor adventures in Madison County, including hiking the Appalachian Trail, rafting, biking, and fly fishing. With vast rolling hills, to untouched mountains, the county is surrounded by the French Broad River, running west of Highway 26. Feeder creeks, springs, backcountry streams all fall into the French Broad River, and almost every smaller creek provides trout with lush, native habitats. Madison County offers the perfect backdrop for any outdoor adventure, and each town offers an authentic, refreshing experience.
Madison County Rivers
The charming towns of Mars Hill and Marshall have much to offer when it comes to fly fishing. You will find water in virtually every direction you drive. Some of the best fishing in Madison County can be found in Big Laurel Creek. The delayed harvest creek is stocked every year with big brown trout, brook trout, and rainbow trout. Big Laurel Creek, however, is unlike any other delayed harvest section. The river curves through the mountains and smaller feeder creeks feed into the Big Laurel, providing fly fisherman with a chance to catch wild trout. Big Laurel provides anglers of all ages easy river access and abundant fishing opportunities.
Fly Selection and Clear Water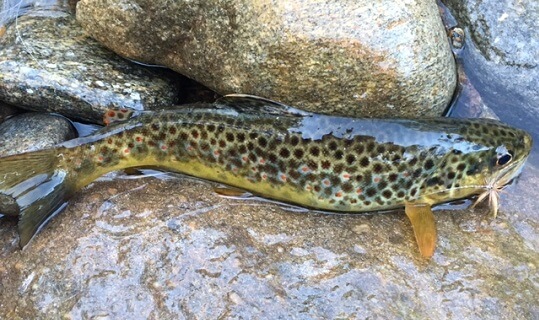 The gushing mountain water can be dingy at times, but it doesn't take long for the river systems to clear out after a rain. The water is usually crystal clear, and the blessed fly fishing dictum is, "if you can see the fish, the fish can see you." This is true for the freestone river. Tippet selection between 7x and 5x is highly recommended when throwing dries or nymphs. Fly selection can vary by month or even week. It is recommended to look at a fly fishing hatch chart before heading to the river to ensure the hatch is matched.
The Ephemerella Invaria – Sulphur is one of the best dry flies to match when fly fishing the Big Laurel. These mayflies hatch during the month of June and into July. As the sun begins to set, tie on a #16-#18 Light Cahill for late afternoon and evening dry fly action. You will begin to see hatches at dusk and these flies prove effective.
Contact Us
Paul Kisielewski is a seasoned guide in Asheville, NC and owns Southern Appalachian Anglers – Asheville Fly Fishing Guide Service. He is local to the area and grew up chasing wild trout around WNC. For reservations call (828) 691-1506 or visit southernappalachiananglers.com to reserve a fly fishing destination.