If you're any thing like me, you start getting excited at the first cold front in September and want to jump into fall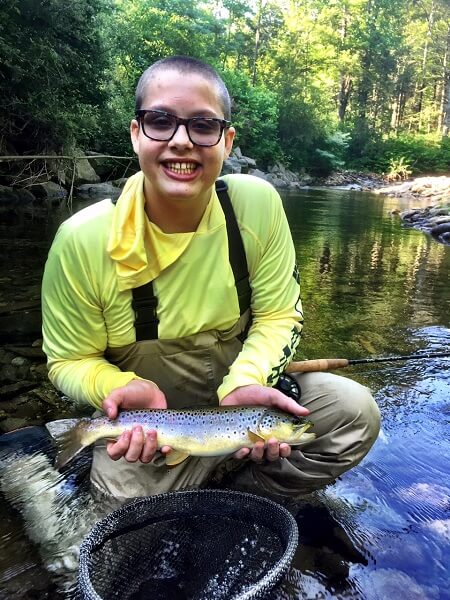 fishing mode, when it's really still the dog days of summer playing dog tricks on you.  In this article we are going to discuss fall trout patterns, hatches present, gear tricks, and fly fishing techniques for free-flowing and tailwater rivers.
It's hard to choose between the fall duties of raking/blowing leaves and planting trees over trout fishing, but autumn only comes once a year so those new maple trees and shrubs can wait in the pot one more day.  This is the time of year when rivers are less populated and fisherman dominate the river banks. You will be surprised in some places where you had to stand in line with a ticket in June, July and August, now you're the first one to the river and you can throw that invisible ticket away.
Hatches and When To Use Them
Trout will feed on dries and on nymphs for the entire month of October and November. The diptera midge is a very popular wet fly to use when a cold front comes through. If you find yourself wearing gloves and a toboggan a diptera midge can warm you up. While there are many variations of midges, try to go small. Sizes that are most commonly found in our river systems in autumn will be #18 – #22. Midges will be productive all month long and can be the determining factor between catching that spooky trout. Don't cheat with a #16… take the time to thread your 7x through that tiny hole.
You've been waiting for it… types of dries and how to pattern. Dry flies will come in a several variations. Small olive mayflies and really small olive mayflies. Small olives are the most abundant mayflies in the months of September, October and November. Olives in size #18 – #24 are most common. Don't try to get away with the #16 olives! Fishing the smaller variations make all the difference when spooky trout are in shallow runs. I've seen trout turn away a #18 and then go for a #22 olive too many times. The best dry fly bite will be from noon to late afternoon on colder days and all day on warmer fall mornings. These sizes also apply to fishing the fall caddis hatch. Orange and dark green caddis can be found hatching throughout the day, typically during late afternoons and evenings. Caddis in a size #18 or #20 are typically a safe size to use when this hatch comes off. Trout will feed on these all evening and will be very aggressive in the taking.
Fly Fishing Gear – Leader Sizes and Tippet?
Don't be fooled with the sound of rising trout and head to the river with your short leader and knotted tippet. These fish have seen it all during the summer months and with the clear fall water and high oxygen levels in the water they can see your leader… unless of course you use 6x or 7x for dries and 7x fluro for nymphs. Using one or two sizes smaller in leader can give you the edge other anglers don't have. You are also better off with a 12ft. leader instead of the common 9ft, other anglers have been using all summer long.
Leaves and Debris? Just Twitch It…
No it's not a Taylor Swift song… The leaves falling in the river can be a pain but knowing how to keep that dropper just short enough and twitch your dry just right will make all the difference. Twitching an elk hair caddis or sulphur just once during the drift will help trout determine if it's fallen debris or an actual bug. Don't get carried away with this technique, as too much action can turn trout away.
As the weeks of autumn fly by, there will be more leaves in the river bed and keeping your tungsten bead head off the bottom is going to be critical for success. First, gauge the river's depth. Secondly tie your dropper rig 3-4 inches shorter than you would tie it in the summer. Take into consideration how fast the run is and if there is any undercurrent in the plunge pool your are fishing. This may take a couple times to get it right but when you do there won't be any more hang-ups.
Contact Us
For more fall fishing advice in Western North Carolina or East Tennessee, contact Southern Appalachian Anglers of Asheville, NC. Or to book a trip go online at SouthernAppalachianAnglers.com to reserve your guided fall fishing trip in Western North Carolina Mountains.