Asheville is the ultimate destination for a fly fishing vacation! With the Southern Appalachian Mountains surrounding Asheville's valley's and peaks, there is plenty of water to cover. Take a sneak peak into some of our stream fed rivers and headwaters around Asheville, NC.
Timing is Everything
When are you looking to take your fly fishing vacation? Asheville offers phenomenal weather year round so if you are a warm weather fisherman, or woman, or a cold weather angler you will be right at home.
Spring: Hold on Tight!
Fly fishing from March through May can offer some of the most productive fishing all across WNC. With new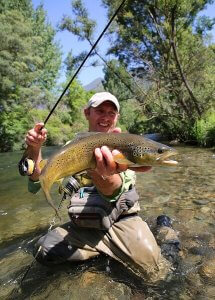 hatches coming off the water and aggressively feeding trout, you can be sure to catch a trophy. In the Southern Appalachian Mountains, creeks begin to rise and lakes begin to take on more water, offering fish a reason to feed, due to increasing metabolisms. Trout fishing and bass fishing is phenomenal this time of year.
Summer: Looking to take your fly trip when the kids are off?
The summer in Asheville and surrounding mountain towns is typically mild. With temperatures staying in the mid 80's and the occasional couple days of low 90's, Asheville really has it going on! This is the time of year when fishing on headwater creeks and backcountry mountain creeks excel. Wild trout are plentiful as well as delayed harvest water where big brown trout can be seen stalking giant stone flies and mayflies. Depending on stream levels and river currents, trout fishing and smallmouth bass fishing is by far some of the most popular fishing to be done in the summer months.
Fall: When do the leaves change?
Typically our leaves change in Mid October through November 1st. If you are looking to get some prime fishing in while breathing in the fresh mountain air and looking at the foliage show, fall is your time of year to book your trip. With trout aggressively feeding on caddis flies, mayflies and scuds, primarily, you can be sure to hook into a big healthy fish.
Winter: Snow? Big Fish? Yep!
Even in the snow anglers can find trout feeding on slow rollers and midges. Some of the biggest fish can be caught in the dead of winter. Rainbow, brook and brown trout all can caught in WNC from November – February.
Where Do I Stay?
That's one of the best things about WNC. Asheville and surrounding towns offer bed and breakfasts, luxury hotels, smaller motels and a plethora of cabin rentals! Take a look at our Asheville Friends and check out the best place for you to stay during your fly fishing vacation.