In North Carolina smallmouth bass have some of the best habitat in the southeast. The natural freestone rivers of North Carolina provide an abundance of aquatic insect forage, plenty of baitfish, and the most important factor to a smallmouth's diet…crawfish. Smallmouth bass fishing in NC is prolific year round, except for the extreme weather months.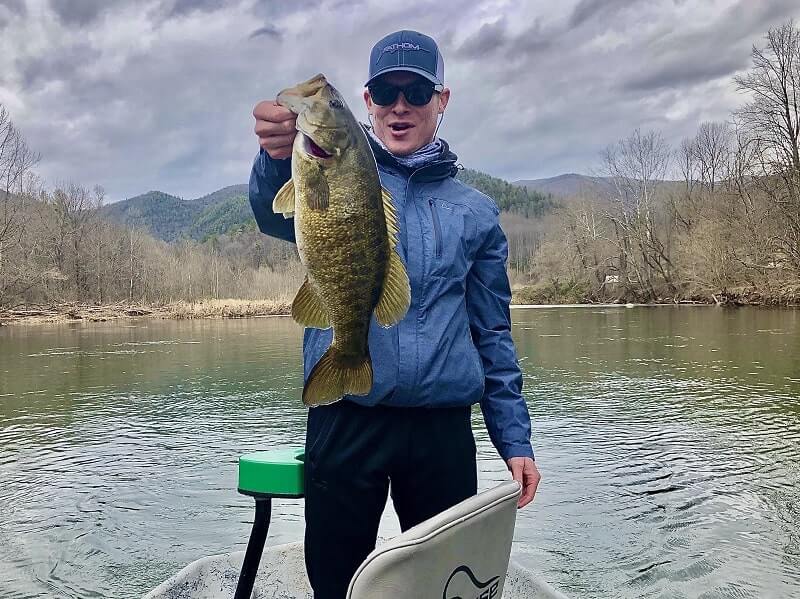 This article will provide details regarding general information on smallmouth bass fishing in NC as well as detailed information on where these fish live, how to catch them and best practices for catching them.
Smallmouth Bass Fishing Basics
Most bass fisherman at one point in time have been infatuated with the art of smallmouth bass fishing and the finesse technicalities that come along with the sport. There is a happy medium between small profile baits used with medium to heavy sized line. When you are having to throw 1/8th or 1/16th ounce baits, to get 5lb fish to eat, you want to be using larger sized line. Usually 8lb test line will do the job, but there are rivers where shale rock will slice your line; this is where bigger is better. Smallmouth bass fishing in NC can be tricky, especially in rivers where smallmouth become spooky to moving shadows and fisherman alike. Fishing guides that specialize in big smallmouth bass, such as SAA guides, will be able to fine tune approaches that will help inexperienced anglers land that fish of a lifetime.
Smallmouth Habitat In NC Rivers
Hands down the hardest technique to master is consistently finding where smallmouth live in rivers here in North Carolina. While there are many rivers that inhabit smallmouth, the smallmouth fishing guides from Southern Appalachian Anglers guide on three rivers to be able to maintain a pattern for chasing these native bass.
Smallmouth will travel up and down miles of river in quest for forage, safe spawning grounds and colder/warmer water temperatures. This quest is the species' annual tradition that many anglers seek education in. The annual smallmouth run usually takes places in the late spring or early fall. Many smallmouth will search for spawning grounds around April and May. These fish are looking for hard sandy bottoms with cover. After these smallmouth have traveled to their spawning grounds, they will either stick around that general area or make their way back down stream.
Catching North Carolina Smallmouth Bass
The most proven method for catching smallmouth bass effectively is with a spinning rod. Spinning rods typically can make a long cast if spooled properly, and provide anglers with a soft taper for increased sensitivity and better lure control.
There are many lures to use for smallmouth bass. Find our guides' top 10 smallmouth lures outlined below.
White Zoom Fluke
Bitsy Jig
3″ Grub
Zoom Lizard
Topwater Frog
Brush Hog Texas Rig
Senko
Zoom Fluke Jr.
Berkley Pit Boss
Finesse Trick Worm
Additional Bass Fishing Information
For more information regarding smallmouth bass fishing in NC, how to schedule a fishing guide trip, where to float, where to launch or even equipment to use please give us a call at 828-691-1506.