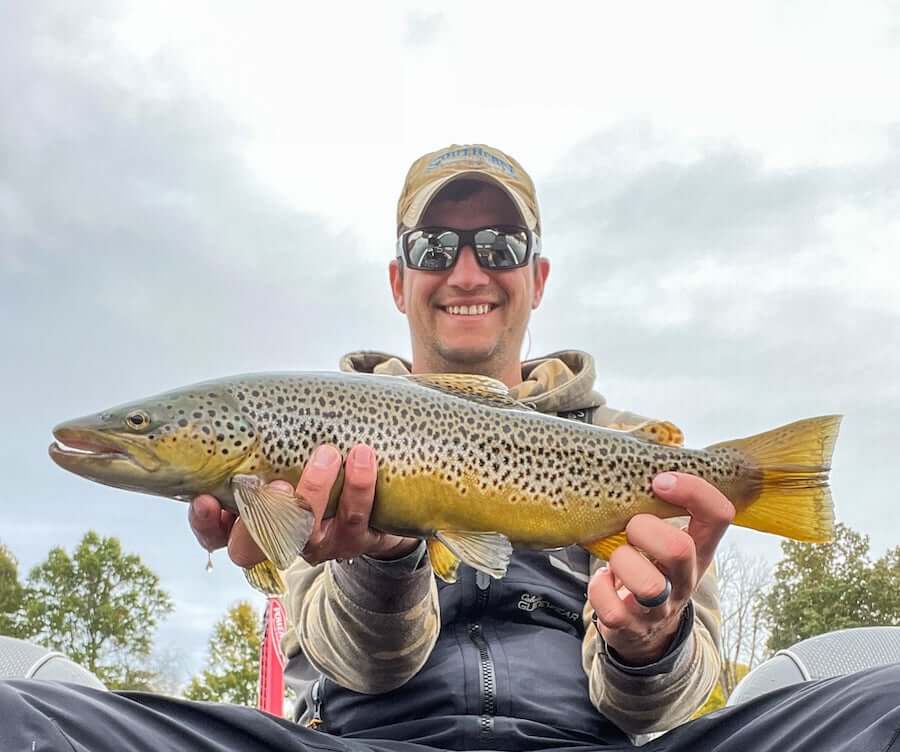 What Fish Can You Catch In Asheville, NC?
Asheville, NC offers prime fishing for those that are looking to expand their knowledge with multi-species fishing trips. While there are many rivers that hold a majority or concentrated species, such as a trout stream, anglers can still find other species swimming through the same stream, river, or lake! Learn more about the plethora of species that has been found throughout a 100 mile radius around the Asheville, North Carolinas mountains. We will begin with the most popular then work our way down.
Number 1: Smallmouth Bass
Smallmouth bass, or bronze backs are the most popular gamefish found in Asheville, North Carolina. With a number of rivers holding smallmouth bass, the French Broad River is the most popular to fish.
Number 2: Muskellunge
Muskie for short, are an apex predator that are commonly found in the French Broad River. With muskie growing up to 50 inches long their dominance in the river speaks for themselves. They feed on suckers, and trout. While these toothy critters look mean, they are very fragile and must be handled with care.
Number 3: Wild Brown Trout
Yes, wild brown trout are present in the French Broad River. While not a common sighting in the French Broad due to the water temperature, they can be found all over Western North Carolina's smaller streams and rivers. The more tree cover over streams the more this species with flourish. As a whole, brown trout are as delicate as they are beautiful. Handle with care and practice catch and release to maintain a healthy population for this species.
Number 4: Spotted Bass
Spotted bass are definitely not a popular species to fish for in our river systems here around Asheville, North Carolina but definitely a fun species to talk about! While spotted bass are not native to our rivers they have been introduced and can be caught in the bigger river systems. They have been found breeding with the smallmouth bass making the mean-mouth bass.
Number 5: Mean Mouth Bass
The mean-mouth bass are a cross breed between a smallmouth bass and a spotted bass. They fight hard and have a distinct color that many mistake for a smallmouth bass. The sheen is brown and they rarely have tiger stripes like a true smallmouth.
Number 6: Sicklefin Red Horse Sucker
Native to NC, the Red Horse Sucker can be found in pretty much every river system in Western North Carolina. They are bottom dwellers and feed on aquatic insects. They can grow to 30 inches in length and exhibit a gold sheen color with a red tail fin.
Number 7: Walleye
The largest member of the perch family, the walleye can be found in a number of river systems in Western North Carolina. While not a species that is commonly fished for in the Southeast, these fish are present in the French Broad River and many lakes in our area.
Number 8: Chain Pickerel
The chain pickerel is a close member to the pike family. Mainly found in the French Broad River growing to 20 inches in length. These fish will feed on smaller baitfish and have been commonly found eating small mammals, frogs and snakes.
Number 9: Channel Catfish
With a scaleless body the channel catfish is another bottom dweller that mainly feeds on aquatic insects larvae and plankton. Not a species that many fisherman chase after, but definitely one to mention in our list!
Number 10: White Crappie
More common in North Carolina's lakes, the white crappie can still be found in our river systems. Particularly found in the French Broad River here in Asheville, NC. A member of the panfish family, including bream and sunfish.
Number 11: Pumpkinseed
A species to appreciate! With beautiful markings, the pumpkinseed sunfish has a presence in almost every river in a 100 mile radius around Asheville. They continue to combat hot summers, and cold winters.
Number 12: Rock Bass
The Western North Carolina "Rock Bass" is a species that is closely related to the sunfish family. With a bigger mouth, the rock bass can eat crawfish, small baitfish and other aquatic insects. Mainly found in deeper holes with plenty of rock structure around.
Number 13: Rainbow Trout
Wild rainbow trout are common in Western North Carolina. Many being caught in colder, smaller river systems – fisherman should take care of these species whenever they are caught.
Number 14: Brook Trout (Spec)
Brook trout are the only native trout species found in Western North Carolina. These trout can only be found in higher elevation streams. They require clean, cold water. Practice catch and release and handle with care.
Thank you for reading about some of the species of fish in Asheville, NC. While there are many other subspecies and smaller species in the rivers these 14 species of fish are some of the most popular to catch and spot in our river systems. As with any species of fish, if you catch one handle each fish with care, do not leave them out of the water for too long and practice catch and release.
To contact us at Southern Appalachian Anglers about what fish you can catch in Asheville, NC contact us online or by calling 828-691-1506.