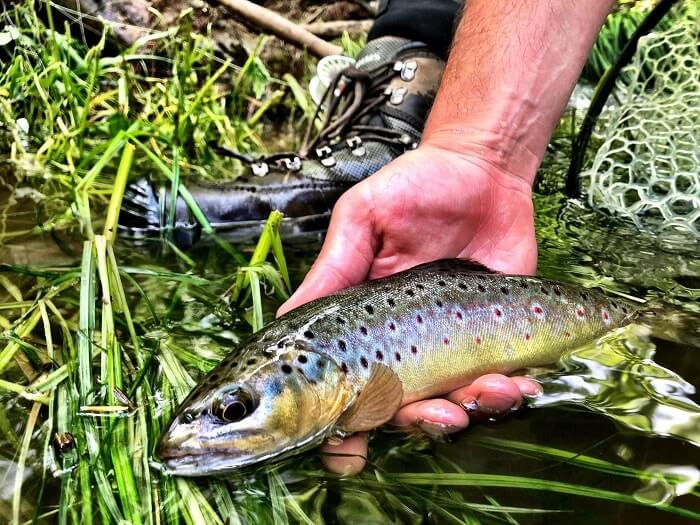 Western North Carolina running from southeast Asheville all the way north toward the Tennessee boarder has the best trout fishing in the Southeast United States. While there are some private creeks and rivers that you need to stay away from there are hundreds of local streams and rivers that provide anglers with wild trout fishing year round. Many National Forest Service Park Lands offer designated WILD trout water.
Some of the best rivers and creeks that have a healthy wild fish population are listed below. 
Harpers Creek: Located at Wilson's Creek, with a short hike up the mountain you will find camping sites along the river with big boulders and plenty of plunge pools making deep holes, perfect for tight line nymphing and czech nymphing.
South Mills River: Travel the dirt road past the hatchery supported sections of the Mills River and you will find the river on your left. You will be surprised how these fish will eat dry flies. There are miles of river to hike through. There are tight spots in this creek but short roll casts with mayflies or caddis work best.
Davidson River: Follow 276 up to where Looking Glass Falls joins the river and above that, the Forest Service Road 475 will put you right beside the creek. A magnificent wild trout fishery. Here you can find brook trout, brown trout and rainbows all in one stream!
Wilson's Creek: Wilson's Creek has a busy summer month with recreational activities including swimming, kayaking and tubing. But enjoy the river with a fly rod in hand past the Welcome Center a couple miles of the Forest Service Road and you will find wild trout along the entire upper section of the river. Be sure to use long leaders and 6x or 7x tippet in clear water.
Fly Fishing Trips
Book a wild trout fly fishing trip with one of our professional guides to learn more about wild trout habitat and learn how to pattern these fish year round! Contact SAA online or call (828) 691-1506 to book a trip!